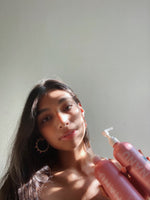 BIG CHANGES START WITH ME: MISHA BERNARDINO
As we explore the journey towards intentional living, we connected with some of the women who inspire us as a brand. Misha Bernardino exemplifies what it means to live life with purpose.


Can you tell us a little bit about yourself?

I'm a 24 year old Architectural Apprentice, Founder and creative director of Andi Activewear, Indoor Cycling Instructor for Perigon.Co and a mom!


What is personal growth to you, and how do you see it happening for yourself?

Personal growth is constant learning and living with a purpose. I see it everyday, there are opportunities to become better, to learn something new, and make a difference — whether in a situation or in someone's life. 


What daily rituals do you do to see change happen in your life?

Prayer, playtime with my son, and exercise!


What changes have you made that you're most proud of?

Some changes I've made that I'm most proud of would be making it a point to set clear process and objective goals every week, limiting my leisure-based screen time to 2 hours a day, workout out at least 5 times a week, and of course, making an effort to be conscious consumer & support local.


How do you think being kinder to yourself can lead to being kinder to mother nature?

Helping others is a great way to be kinder to yourself. By being kinder to Mother Nature, you are helping others by taking care of the environment for future generations.


How can sustainable brands like NANU help you in the process of being kinder to yourself and mother nature?

Choosing sustainable brands like NANU allows me to help protect my environment which shows kindness to myself and Mother Nature!


How did you find out about NANU?

Instagram


How has your experience been with NANU?

My experience with NANU has been great! After using NANU almost everyday for 5 months, I noticed my hair has become a lot healthier!! I also love how the formula doesn't clog the pores on my forehead & along my hairline.


What was your transition to NANU like? Especially from your old bath products?

Transitioning to NANU wasn't hard at all. I love the light floral scent of the shampoo & body wash. I haven't used any other brand since I've switched.


What made you stick with NANU?

I've stuck with NANU because I'm happy with the results, it smells amazing, it's good for the environment, and is easy to order!


Every when do you repurchase a new bottle?

I repurchase a new bottle every 4/5 months.


Would you recommend NANU to your friends?

YES! So many people ask for my hair stylist or what hair treatments I've done. I haven't had my hair done in over a year— it's all NANU.
Thank you to Misha for spending this time with us, and for sharing her knowledge and inspiration. To learn more about Misha, check her on

 

Instagram. Use code MISHA10 for a 10% discount starting May 19 until June 19 2021.