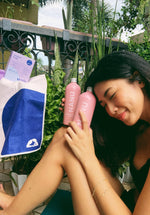 BIG CHANGES START WITH ME: FIORELA LAZARO
FIORELA LAZARO
Can you tell us a little bit about yourself?
My name is Fiorela, I'm a 22 year-old medical student. I have 3 sisters whose ages range from 26 to 2 years old. When I'm not furiously studying late into the night, I'm crocheting clothes inspired by random daily thoughts/experiences, doing some damage on Instagram thrift stores, making cocktails, or answering the NYT crossword.
What is personal growth to you, and how do you see it happening for yourself?
Personal growth for me is having the courage & the capacity to reevaluate myself, my values, and my beliefs system. It's really important to me to be able to reconcile what it means to be "who I truly am" but to remember that I'm always changing, too. 
I see personal growth "happening" for me whenever the scope of what interests me and what I consider important expands. Being able to find something to learn from any field, person, or experience and taking that learning to become a more empathetic individual is not only personal growth, but also growth that will and should benefit everyone around you as well.
What daily rituals do you do to see change happen in your life?
I actively engage in daily conversations with a really good group of power women/girl bosses who  exemplify what it means to "check yourself." Surrounding yourself with people who genuinely care about you, even if you don't always share the same exact opinions is critical to finding ways to change & improve.
What changes have you made that you're most proud of?
One of the changes I'm most proud of is finally listening to my mom (HAHAHA). You eventually reach a certain point when you realize that all the advice you resisted taking from your mom comes from a good place, and is almost always the right thing to do.

Others would include the transition I'm making into a plant-based diet, moving away from fast fashion, and consuming more meaningful content.
How do you think being kinder to yourself can lead to being kinder to mother nature?
I think a perfect example of this that I try to really live, is eating a plant-based diet, and shifting towards cruelty-free products. It's a win-win!
How can sustainable brands like NANU help you in the process of being kinder to yourself and mother nature?
Brands like NANU help in the process of being kinder to myself and mother nature because I'm introducing ingredients to my body that are completely natural and clean, which trickles down to being kind to mother nature since these ingredients ultimately end up in our water systems and oceans and everything.
How did you find out about NANU?
One of my best friends shared NANU with me, because she knows how much my family is trying to make a lot of sustainable choices and changes.
How has your experience been with NANU?
I LOVE NANU SO MUCH! I rave about it to all my close friends & family, whom I have been fairly successful in "converting." The service is great, and the product itself is, of course, the main reason why I recommend it to everyone. You can ask anyone, and I've been obsessed with hair products since I was in grade school - my mom's signature line whenever I put a new kind of shampoo/conditioner in the grocery cart is: "makakalbo ka na niyan." Luckily I have SO MUCH HAIR that I'm not (yet) bald, and NANU has been so good to it. No residue, smells absolutely amazing all throughout the day, even after an intense workout.
What was your transition to NANU like? Especially from your old bath products?
It was an easy transition, primarily because I've been using vegan/sulfate-free/paraben-free products for several years now, so my body & hair have been "acclimated," but the transition was definitely made easier by the fact that NANU is practically waste-free, so it was not at all something I struggled with.
What made you stick with NANU?
I don't feel any guilt after finishing a bottle, knowing that it's not going to a landfill or the oceans, but becoming reused over and over. Plus, of course, the quality and chemical make-up/ingredients are very compatible with my hair & skin type, which is not surprising considering how gentle it is.
Every when do you repurchase a new bottle?
I'd say about every month or less for conditioner. For body wash, about every 2 or 1.5 months. I don't use a lot of shampoo, so I've yet to repurchase shampoo. In addition to this is the NANU I purchase for the household.
Would you recommend NANU to your friends?
YUP - 100%. I would and I do!
How can NANU do better?
Would love a wider range of products, like hand soap or face wash and things like that. I'd also love to learn more about the whole NANU process.
Thank you to Fiorela for spending this time with us, and for sharing her knowledge and inspiration. To learn more about Fiorela, check her on

 

Instagram. Use code FIORELA10 for a 10% discount starting May 19 until June 19 2021.