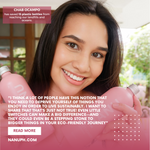 Make the switch with Chab!
Give us a brief introduction of yourself!
I'm Chab and I'm a makeup artist and writer. I haven't been taking too many makeup gigs since the pandemic started, so I just create looks on myself and share them on Instagram. I'm super passionate about beauty products and I also review them on my blog. 
What made you make the switch?
Since I love makeup and skincare so much, I have a lot of products—and honestly, that equates to a lot of waste. But I believe even small steps can make a huge difference. I try to be sustainable whenever and wherever I can—like using water tumblers, taking canvas shopping bags with me, and switching out my personal care items for products that are better for the environment. I think it's the easiest beauty category to make sustainable, and brands like NANU definitely help with that. 
I found out about NANU just like how I find out about trending makeup and skincare: through my feed. I thought it was super cool that not only are the products created with the environment in mind, the packaging can also be returned and reused. I decided to get the shampoo, conditioner, and body wash, and I haven't looked back since! 
What is your favorite NANU product?
I really enjoy the Spring Conditioner. I'm trying to grow my hair and the ends can get pretty dry, but the conditioner really helps nourish them and prevents split ends. I also love the smell! 
What made you stay loyal?
The bottle return program definitely makes me stay loyal. It makes me really happy to know that the bottles won't be going into a landfill. The people behind the brand are also really kind. I've exchanged a few messages with them before on Instagram and they're always super nice and easy to talk to! Of course, the products themselves are really good, too! They're so gentle on my skin and hair and I love using them every day. 
What can you share to encourage others to make the switch with you?
I think a lot of people have this notion that you need to deprive yourself of things you enjoy in order to live sustainably. I want to share that that's just not true! Even little switches can make a big difference—and they could even be a stepping stone to bigger things in your eco-friendly journey.