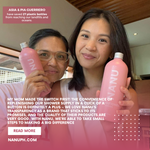 Mom's who love Nanu: Meet Tita Pia Guerrero 💗
Tita Pia has saved a 27 plastic bottles from ending up in our oceans & landfills with Nanu 💗
Give us a brief introduction of your mom!
My supermom is my role model with endless talents! She's a passionate architect, an amazing chef, a master yogi, k-drama addict, and expert crochet-er! There's honestly nothing she CANT do. We bond over our korean crushes, relaxing by the beach and our favorite time of the day — happy hour! 😝
Who made the switch first and why?
My mom made the switch first! we first tried nanu because our family friend recommended the brand to us. We were immediately attracted to their passion for the environment and new simple method of saving plastic.
What is your favorite nanu product?
Definitely the shampoo! We love the fresh scent ❤️
What made you stay loyal?
The convenience of replenishing our shower supply in a click of a button, we love Nanu's transparency as a brand that sticks to its promises, and the quality of their products are very good.
What can you share to encourage others to make the switch with you?
With Nanu, we're able to take small steps to making a
big difference!
Special ones just for Tita Pia 🌸
Whats your favorite part about being a mom?
Watching my kids grow into awesome human beings.
What has being a mother taught you?
we are all placed on this earth to take care for each other. It is a mom's pride and responsibility to help build a society of loving, caring people.