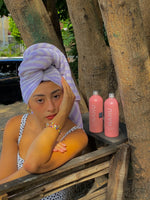 Big Changes Start With Me: Christina Montelibano
The journey towards sustainability isn't an easy one, but with each commitment to mindful action, it becomes a more attainable reality. 
In this series of interviews, we shed light on how young Filipinos are contributing to bring this collective dream of ours to life.
How are you celebrating Earth Day?
I'll be taking a walk outside to feel one with our Mother Earth, and will be sharing some posts of my favourite sustainable brands (like NANU!!!) on Instagram to spread the word.
What's the biggest change you've made for the environment?
The biggest change I've made for the environment was to choose to shift to more conscious and sustainable practices in everything I do, whether that be at home, in school, and for my small business. At home, I try to be more conscious of the things that I consume, from the water and electricity I use to the food I choose to eat. For school, as an art student, paper is a necessity and I've taken advantage of this pandemic and have been using scratch paper for all my drawing classes and plates. As for my small business (
@tinay.tings
) I've chosen to use flowers and leaves that I hand pick and dry from my garden, and expired food colouring to achieve the colours and tints in the functional art pieces I create, rather than letting it go to waste and purchasing materials online.
What are your main resources of information about the realities of climate change?
My main resources for information about the (harsh) realities of climate change are through documentaries and credible instagram accounts that I follow to gain inspiration for my art.
Can you give at least 3 actionable steps that we can take in our daily lives to secure a better future?
One; be conscious, Two; be curious, and three; have a conversation. Everything starts at home.
Be conscious of what you consume whether it be the water you drink or the water you bathe in. Reuse your pangtulog (pyjamas) for 2 nights before putting them in the laundry. Choose to work near a window with natural light rather than use a lamp or the lights in your room.
Be curious of where your things, like your clothes, come from, how they are made, and what effects they have on the environment. You can support small and local businesses that sell preloved, reworked, and hand-made clothes. Here are some Instagram accounts I've come to love
@by.hannahb
@_carino
@munimuni.studio
@wearkahel
Converse about it with your friends, your family. Talk about what you're doing, share posts on instagram and other platforms you might have. Start "that" conversation.
What does your ideal green future look like? 
My ideal green future would be to have fresh air and clean water be accessible to anyone and everyone. To achieve that we must have everyone be willing to shift to more conscious and sustainable practices. The more and the sooner we make that choice, the cleaner, the greener, and the more secure our future would be.
Thank you to Christina for spending this time with us, and for sharing her knowledge and inspiration. To learn more about Christina, check her on Instagram. 
Use code CHRISTINA for a 10% discount starting April 23 until June 23 2021.