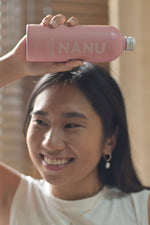 Big Changes Start With Me: Issa Barte
The journey towards sustainability isn't an easy one, but with each commitment to mindful action, it becomes a more attainable reality. 
In this series of interviews, we shed light on how young Filipinos are contributing to bring this collective dream of ours to life.
It's an honor to have Issa Barte with us for this.
How are you celebrating Earth Day? 


What's the biggest change you made for the environment? 
I stopped being scared. I realized that when we fight for something as important as our world, we have to come in brave and dedicated. 


What are your main sources for information about climate change?
Aside from the usual articles on climate change that anyone can access online, I learn more about the consequences through the people I meet on ground. Residents of disappearing islands, fishermen and farmers adjusting to our changing world, as well as victims to these intense typhoons. Climate change isn't a concept on ground, it's reality.  
Can you give at least 3 actionable steps that we can take in our daily lives to secure a better future?
First I think we all need to be aware of what's going on, it's needed to be informed of what we're all talking about.

From there, it's finding a community that your convictions resonate with because there are so many areas and organizations that specialize in different aspects of the environment-- from reforestation, to marine conservation, to education, etc.

The third step is to see how you can be part of it all! There's really something for everyone. 
What does your ideal green future look like? 
Where we're not fighting to secure a better future because the present is livable for everyone. 
Thank you to Issa for spending this time with us, and for sharing her knowledge and inspiration. To learn more about Issa, check her on Instagram.